OUR APPROACH
We are a strategic partner focused on strengthening the Anti-Human Trafficking Ecosystem by connecting its key stakeholders, funding transformative programmes, empowering survivors, and fostering an environment of shared learning.
We do not fundraise for ourselves. We invest all the funds that come through charity in our programmes abroad to promote the holistic development of children, women, and survivors. We are primarily supported by a strong base of grassroots donors.
We work for child welfare, human rights, and the empowerment of marginalized communities. We strive to create a world without human trafficking, where every child can grow up happy, healthy, and free.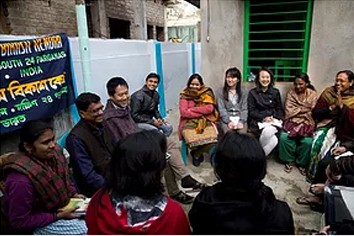 Connect
All of our programmes are geared toward enhancing the Anti-Human Trafficking Ecosystem. An integral part of our process is to identify stakeholders in various sectors and across borders who can help us achieve this goal. We engage with all levels and all dimensions of the ecosystem, connecting survivors to external supporters and grassroots networks, in order to build capacity and political presence to ultimately affect high-level policymaking. We seek to make our impact sustainable by empowering disempowered communities and building their long-term leadership in the political sphere.
Learn
We believe in fostering a shared learning environment among stakeholders in the ecosystem to ensure that existing knowledge is used to its best potential. To achieve this, we actively conduct research and programme assessments to identify key takeaways; maintain an open database that makes best practices more accessible and understandable; and invest in developing platforms for the exchange of meaningful dialogue among stakeholders.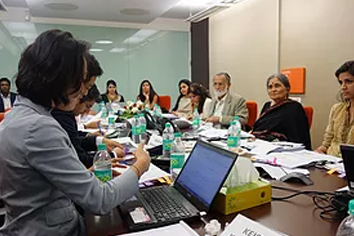 Fund
We strategically fund programmes based on our in-depth knowledge of the human trafficking sector. We examine an intervention's expected contribution and potential to meaningfully transform the ecosystem when making investments. We develop, execute, review and adapt strategies and action plans jointly with our partners. Thanks to our consistent fundraising efforts, we are able to proactively endorse risk-taking programmes. By advising and consulting with other donors, we help them make viable investment decisions and ensure that funding gaps are being addressed.
Empower
Empowering groups and individuals is an essential part of our approach to strengthening the ecosystem. We believe that by identifying gaps in the ecosystem and enhancing existing abilities of stakeholders, we can achieve sustainable results. Empowerment is a force that circulates throughout the ecosystem. In supporting a variety of rehabilitaion programmes, we help survivors find their voice by walking hand-in-hand with them on the path toward justice and self-empowerment. Their courage and determination, in return, motivate and inspire other stakeholders within the ecosystem.